Hexagon

Zwart will certainly have been strongly motivated, since it was his first assignment for the studio. Berlage had formulated three requirements. One and two were the material to be used and the desired colour. But Berlage also wanted hexagons to be a prominent part of the design.
Piet Zwart:
'It had to be hexagons, there was no way around that.'
In addition to hexagons he used circles and cylinders as basic geometric forms.

To continue


To go back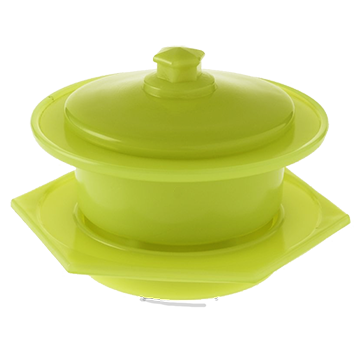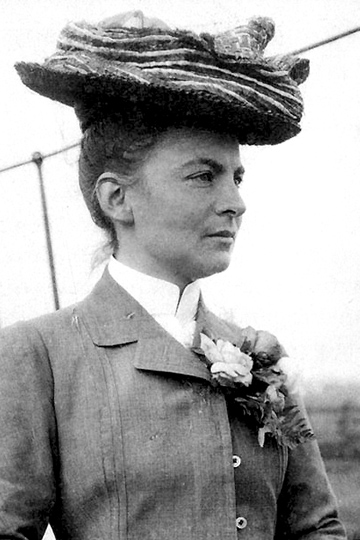 Industrial

Zwart took great care to meet the demands of the manufacturing process. All parts had to be easy to unload from their moulds, for instance. Hence the closed handles. Step by step he produced a truly industrial design for a pressed-glass breakfast service. Everything about it was new; nothing was designed to look like it had been made by a master artisan. This was dinnerware made in a factory and not ashamed to show it.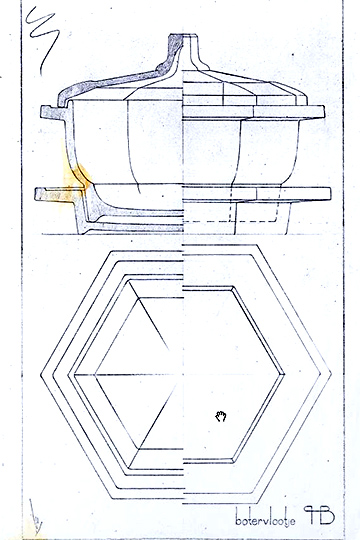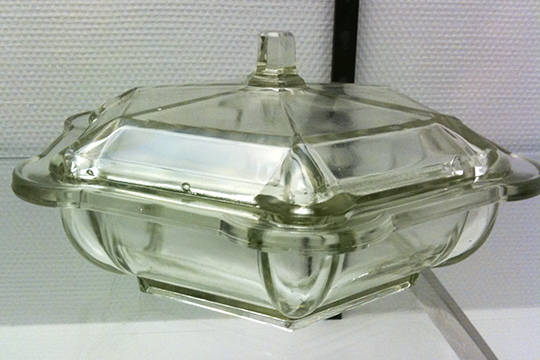 Hélène Kröller-Müller
foto courtesy
Museum Kröller-Müller

One single tureen

Berlage set to work but soon found that this was a much more complex task than he had thought. According to Piet Zwart, who had at the time just joined his studio, Berlage threw in the towel after designing only one single tureen. And a good thing too, or so Zwart thought, for the architect knew little of the manufacturing process involved in making pressed glass. The dish he had designed could only be made using very expensive moulds. And besides: 'It wasn't practical - how does one clean a thing like that?' Zwart: 'So Berlage charged me with designing the models. This led to the yellow pressed-glass breakfast service.'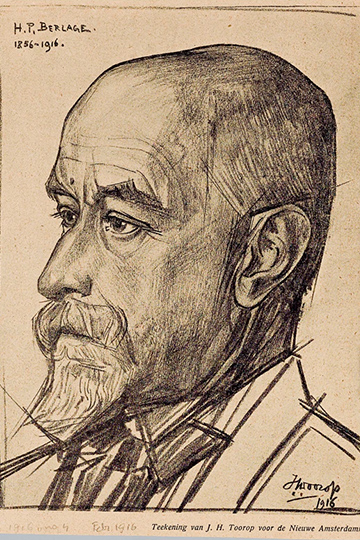 J.H. Toorop:
'H.P. Berlage (1916)
courtesy: RKD

Delegating
If you buy a Chanel suit you do not really expect Coco herself to have sat down and done the design work. It will nevertheless come as a surprise to many that Berlage may not himself have made the design of 'his' famous yellow glass breakfast service. In reality its name refers to his studio. Of course, he wasn't just the boss, who relaxed with his newspaper while his employees did all the work. Berlage's studio revolved around him and he certainly was closely involved with all the work. But being an architect he had learnt how to delegate.
Glass Factory Leerdam:
tureen
Hendrik Berlage
1922 - '24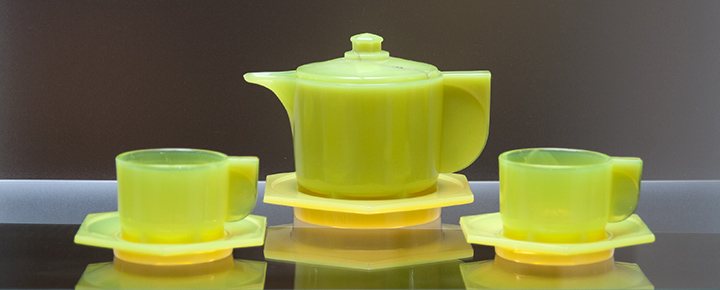 Hélène Kröller-Müller
Kees Broos, the biographer who wrote 'Piet Zwart 1885 – 1977', tells how the first idea for this breakfast service came from Hélène Kröller-Müller. Berlage had built the Sint Hubertus hunting lodge in what is now De Hoge Veluwe National Park for this fabulously wealthy art collector. 'But what good is a hunting lodge without china to match?', she must have thought.
Whether Hélène Kröller-Müller really provided the original idea for this breakfast service is uncertain, something that will probably forever remain a subject of discussion.
Hier wordt de inhoud voor id "blok9" weergegeven
Breakfast service by
Hendrik Berlage and Piet Zwart
Of all well-known examples of Dutch design the yellow glass breakfast service made by Hendrik Berlage and Piet Zwart is among the very best. Its clean, almost austere lines, its industrial character, its striking colour and of course its execution in pressed glass - all these aspects have contributed to its fame. This design dates from the early Twenties and was far ahead of its time. The story of its creation is told in different versions. The truth will probably never be known, but the way Zwart claimed to have created this design is certainly interesting.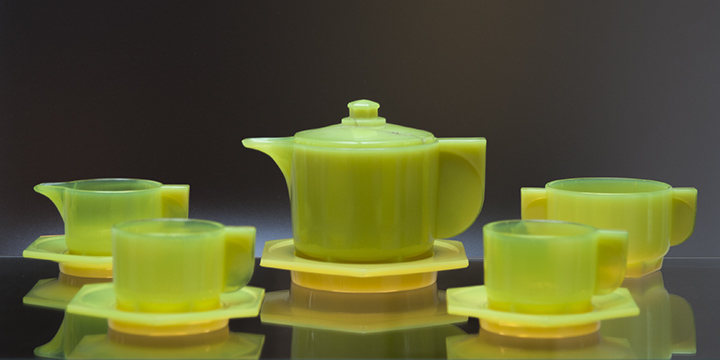 Highlights of 100 years of
Dutch design part III