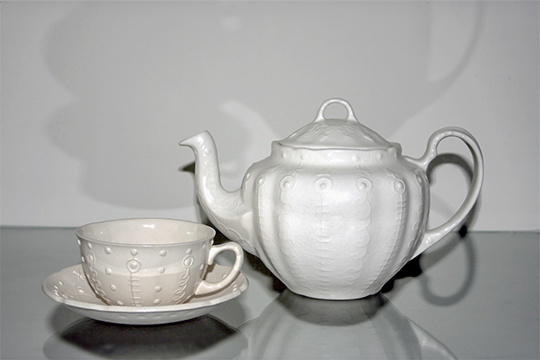 Royal Goedewaagen:
teapot 'Oxford'
decoration in cycle 'Dutch Decorators' (1997)
Caroline Brusse
photo courtesy KMG


To go back

Sources


The information on this website has been collected from many sources, including those mentioned below:
Robert Bronwasser
At Goedewaagen, tradition and modernity go hand in hand. Many museum merchandising articles decorated in Delft Blue are made here. Goedewaagen also remains loyal to its own tradition by hiring prominent designers for its products. Its new design collection was created by Robert Bronwasser, who was their chief (if free-lance) designer from 2008 to 2010.

Bronwasser studied industrial design at Delft University of Technology. He co-founded and for eight years was the creative director of Fontis Ontwerpers. In 2002 he started his own design label called 'Smool'.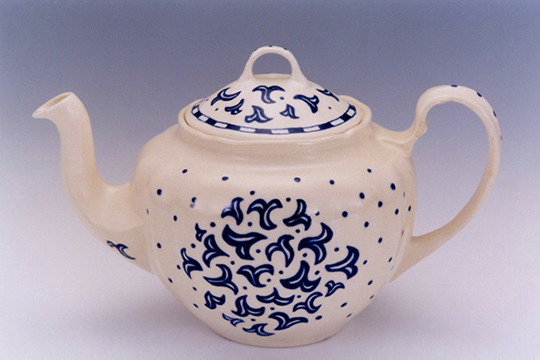 Marie-Thérèse van Glabbeek: 'Goedewaagen's gebruiksgoed'; publication by Museum Het Kruithuis, Stedelijk Museum voor Hedendaagse Kunst;
's-Hertogenbosch 1994.
Ron Tasman: 'The Gouda Pottery Book, Plateelmakers in Holland',
Rotterdam 2007.

The authors of this website owe a great debt of gratitude to Friggo Visser, the curator of Keramisch Museum Goedewaagen, who freely shared with us of his knowledge and his substantial information and photography database. Without his collaboration, this article would have been impossible to make.
Sander Alblas
Sander Alblas was one of their established designers, working for the company from 1992 to 2010. Since then he has been on the staff of the European Centre for Ceramics in 's-Hertogenbosch, an institute where artists are enabled to try out the potential that ceramics have to offer. He has also designed the
Elementen
service. Its decoration is based on the classical theory of elements: fire, earth, water and air.
Royal Goedewaagen:
'Trechterbekerservies' for The Nationaal Hunebedcentrum
design: Designstudio Smool (2005)
photo courtesy Royal Goedewaagen

Goedewaagen:
tea cups of the service 'Elementen'
Sander Alblas
photo courtesy Royal Goedewaagen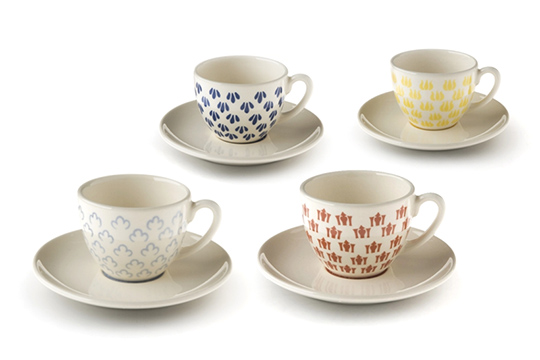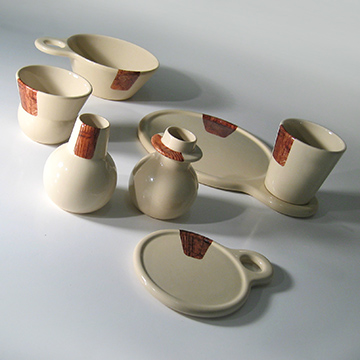 Design
In 1992 Goedewaagen stopped manufacturing cheap souvenirs, since this could more cheaply be done elsewhere. Under its new design director, Auke Beikes, contemporary design was once again given a prominent position in the company's business plan. This proved to be a good choice. Their design collection is now world famous, and many national and international designers work or have worked for Royal Goedewaagen.
recla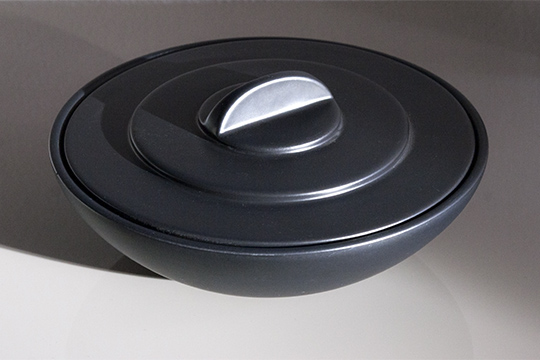 The new Goedewaagen did so well that in 1989 it could buy Plateelbakkerij Flora, whose products were included in the company's collection from 1993. Thus, a broad range of products was added, from traditional to contemporary designs. Flora, begun in Gouda in 1945, had been famous in the 1950s and 1960s for their hypermodern design - design that is now once again popular as a retro trend. Wonderful earthenwares were produced there in later years as well.

Flora:
tureen
Floris Meydam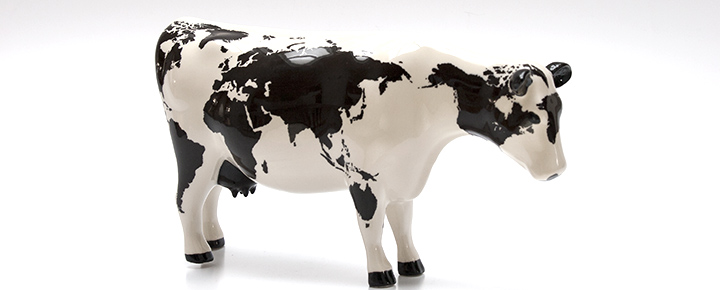 Royal Goedewaagen:
teapot 'Oxford'
decoration in cycle 'Dutch Decorators' (1997)
Pauline Wietz
photo courtesy KMG
Tureen Oxford
Delft Blue decoration
photo courtesy
Royal Goedewaagen
.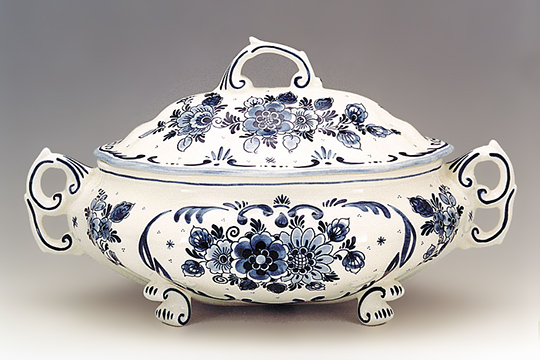 Rising like a Phoenix
In 1982 Goedewaagen closed its doors, but not for long. Jan Kramer, its former sales director, formulated a new business plan and managed to convince the estate's receivers. A few months after Goedewaagen had closed, a small company called Goedewaagen-Gouda BV rose like a phoenix from the ashes. It focused on small-scale, flexible and market-oriented production. This set-up made it unnecessary to keep stocks, which saved a lot of money. Delft Blue's commercial potential was exploited well, including the lucrative miniature houses business. An essential difference with the past was the new company's focus on acquisition.
Goedewaagen page 5
A new start