Goedewaagen:
tea service 'Marion'
Jan van Breukelen
1932
collection Bettie Meines
photo courtesy K.M.G.


The early Thirties were a very fertile period for Dutch dinnerware design. Ironically, this was largely due to the international crisis that followed the 1929 Wall Street crash. Manufacturers tried to counter the downward sales trend by tempting their customers with a continuous stream of new designs. Many of those designs were dark, even sombre in colour.


525
A service that really leaves one speechless is 525, even if seen only on an old photo. It looks as though the designer used to be one of the Russian avant-gardists. Perhaps he even teamed up with Malevich for a month or so? An almost perfectly round tea pot with a round little handle standing straight up, as if in jest. The knob on the lid is made up entirely of geometrical forms. Goedewaagen launched this model on the 1932 annual exhibition. But perhaps it was too time-consuming to manufacture, or customers didn't find it as amusing as we do now, for only very few 525 sets were actually made. Click to continue.



To go back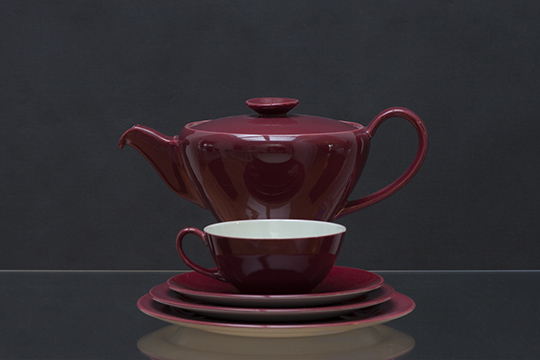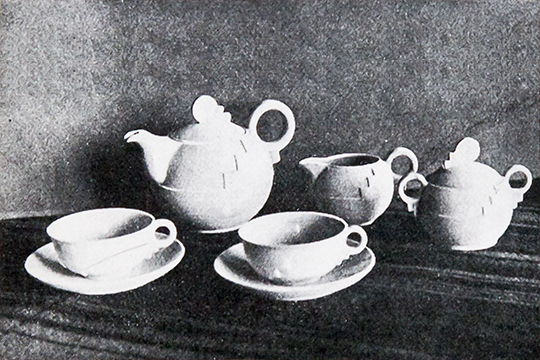 1178


In about 1939 Lambertus de Boer designed a breakfast service that was given the prosaic designation 1178. Slightly less light-weight and surprising than Karin, it is an appealing design that was manufactured right down to the late sixties. The flaring, round forms of the 1175 tea pot in the photo matched post-war tastes well, although lighter-coloured editions were perhaps more popular then.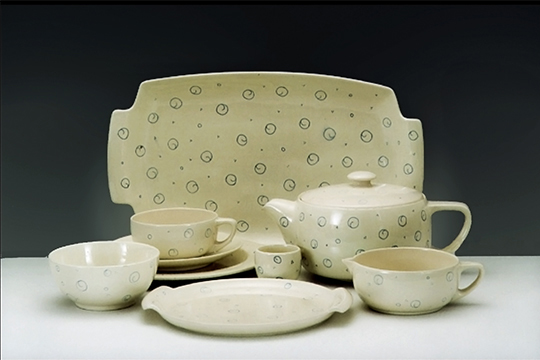 Goedewaagen:
breakfast service 'Karin'
Hendrik Jansen van Galen
between 1935 en '40
collection Museum Gouda
photographer unknown
Goedewaagen:
tea service '525', (1932)
designer unknown
photo courtesy Streekarchiefdienst Hollands Midden
Karin

By the mid-Thirties Art Déco was on the way out. Dinnerware became less angular and austere, one might perhaps say a little lovelier. The glazing colours changed too. We get a preview of the softer, lighter colours that would after the war create such a success for manufacturers like Fris and Regout.

Especially successful - and far ahead of its time - is the Karin service designed in 1937 for Goedewaagen, by Hendrik Jansen van Galen. Its liquid lines give it an organic feel, again prefiguring the designs of the Fifties.
Bert Nienhuis, too, was persuaded to come and work for Goedewaagen. In around 1935 elegant coffee and tea services of his design were launched, under the 1065 and 1069 codes, respectively. Their most remarkable feature is the tall finials on the lids, that seem as if they belong to a pagoda. This set was presented at the 1937 World's Fair in Paris and rewarded with a gold medal. But it was not a commercial success. Manufacturing problems probably interfered. The material as designed by Nienhuis was very thin, which rendered it almost impossible to bake in peat-fired ovens.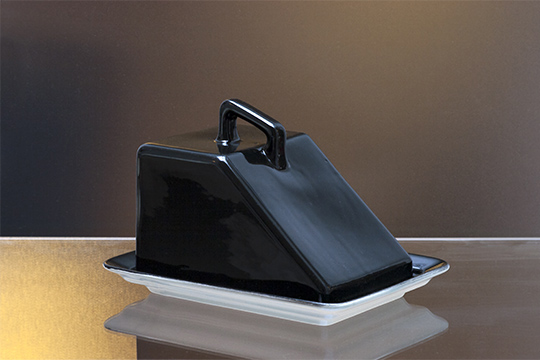 coffee service '1069'
Bert Nienhuis
1937
marketing photo,
courtesy Keramisch Museum Goedewaagen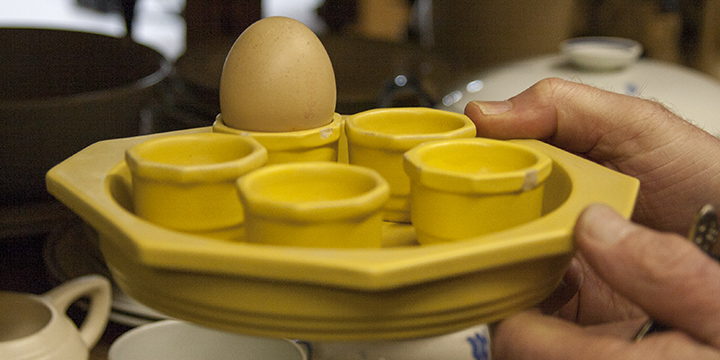 Goedewaagen:
egg set
Jan van Breukelen
collection K.M.G.


Goedewaagen:
bell jar'730,'
designer unknown,
late Thirties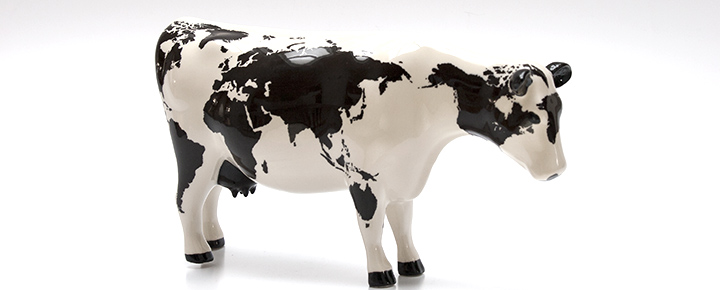 World Cow
Royal Goedewaagen
Van Breukelen versus Bellefroid

In creative terms Van Breukelen wasn't far behind the much better known Edmond Bellefroid, who worked at De Sphinx Maastricht from 1929. In Van Breukelen's tea service Marion we recognize much of his Maastricht colleague's design Thea: A robust look, a combination of disks and triangles and - most remarkable - the asymmetric handles on its tea pot and sugar bowl. It has been said that Bellefroid was frequently inspired by Van Breukelen's work. Whether this is true or not, Van Breukelen certainly let himself be inspired by others, as shown by his hexagonal egg set, that clearly refers to the Berlage and Zwart breakfast service.